---
This free script provided by JavaScript Kit
---
Steve's Review:
Great Smoky Mountains National Park is the most visited national Park in the country. It's a large park, and has multiple campgrounds. We chose Smokemont (142 campsites) for its location on the south side of the Smokies and its proximity to the path of the eclipse. The park was not actually within the path of totality, but there were several localities nearby that were. Given that any hot August day in North Carolina could end up overcast or rainy, there was a risk that we might not see anything on the day of the eclipse. By staying in Great Smoky Mountains National Park, we would at least get to enjoy the better part of a week in a place with lots to do.
After checking in and getting wood late Thursday afternoon, we set up the tent for the next six nights. By that point, it was about to get dark so we made our way to nearby Cherokee, NC for dinner. Cherokee is the main town in the resevration for the Eastern Band of the Cherokee Nation. We ate at Paul's Family Restaurant. The food was just okay, but it was it was interesting nevertheless as the staff appeared to be native Cherokee.
---
Friday began with a cloudy start. There was no cell service at Smokemont, so we headed into Cherokee in search of free wifi at the visitor center. After checking in, we decided to travel to Ashville, a little more than 60 miles from Cherokee. We took a portion of the Blue Ridge Parkway from Route 19 (at Soco Pass) to U.S. Route 74. It was pretty foggy and sprinkly at first, but the views from the other side of the mountains siggested this would be stunning on a clear day. A guy I used to work for, Akira, has a studio down in Ashville, where he makes exquisite hand-thrown Japanesse pottery. His wife, Cindy, runs Café Yuzu in the front and she makes incredibly tasty pastries. We tried the amazing walnut coffee strudel and coffee, which was served in Akira's earthenware. We had a short reunion, but Akira and Cindy had appointments elsewhere, so we left after the snacks. It turns out that one of the Obama's favorite restaurants, 12 Bones Smokehouse, was in the same complex, but after all the driving over the past few days, I was eager to head back to camp.
We stopped along the way at an Ingles Market in Waynesville for sandwich stuff. By the time we made it back to camp, it was already 3:30 PM; a late lunch had tided us over. I enjoyed a little chill time looking over maps and guidebooks to plan tomorrow's route. Because there are no showers at Smokemont, those plans needed to include a swim and a shower.
In addition to bathing, the main purpose of tomorrow's trip was to reconnoiter the route to Franklin, NC, where we hoped to catch the eclipse. Not knowing the area, I was a little worried that we might get stuck in traffic on Monday trying to get there. Since Smokemont is just north of Cherokee, there's only a single route into town— and if that got jammed, we would be stuck several miles away from the path of totality. We knew we needed to get an early start to beat any traffic. We explored some fo the side streets in Cherokee to see what alternate routes would be available to bypass traffic once we were close to town. While Route 411 would be the obvious and most direct route south to Franklin, taking Route 19 west to Bryson City and then taking Route 28 to Franklin would seem to involve less climbing and we would be less likely to have traffic. Even if we only made it as far as Bryson City, we will be in the path of totality and be better situated for the eclipse. After the look around Cherokee, we stopped at Dairy Queen for Blizzards and saw a female elk on Big Cove Road.
At this point of the trip, my device-addicted eldest was starting to bored. He was having a difficult time figuring out what to do with himself without access to the Internet. This was an ongoing frustration for him during the trip. Back at Smokemont, G and I explored the campground a bit. There's a lovely brook, the Bradley Fork of the Oconoluftee River, that runs through the campground.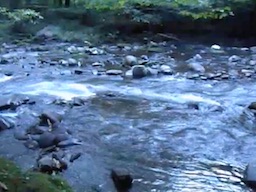 Click to view video
---
On Saturday, we had an early breakfast and got on the road by 9 AM. We made a quick stop in Cherokee and than headed to Bryson City to find a laundry and to see what eclipse-related events were happening there. We liked Bryson City right away! The eclipse duration in Bryson City was projected to be a solid two minutes plus, maybe thirty seconds shorter that it would be in Franklin, and we would only have one potential traffic jam in Cherokee to get through (which we would have to get through to go anywhere in any case). The total distance from camp is 14 miles. We also got great advice (and wifi) from the town's tourist office.
As we travelled up Route 28 south toward Franklin, it soon became apparent that this route would be impossible on Monday if there was even a little traffic. The road was extremely pretty, but also narrow, twisty and hilly.
We did finally get to Franklin. It's funny how it took as long for me to dislike Franklin as it did to like Bryson City. We couldn't find visitor information downtown. There were not many amenities here and it just didn't speak to me. Add the fact that Franklin is about 50 miles from the campsite with some killer hills that the fully loaded car struggles to climb. In contrast, it's 15 level miles to Bryson City. We spenat all of five minutes in Franklin and drove off.
We headed farther down Route 28 south toward Dry Falls in the Cullasaja Gorge. This was another narrow twisty road but with a gang of tailgating motorcyclists for good measure. We knew there would be showers and swimming somewhere in the Natahala National Forest, but as it turns out, not in Dry Falls. We backtracked north a bit to the Van Hook Campground (which would have made a great place to catch the eclipse), but it was small and there was absolutely no parking available near its two showers. Instead, we continued on to Hghlands, NC.
Highlands definitely had a pleasant (if upscale) vibe that Franklin lacked. We found another great visitor center and the lovely people there directed us to the town recreation center, weher we could use the twon's pool and take much needed showers. The pool was amazing and the shower never felt better than it did on this day! After a shower swim and picnic we left Highlands and headed south west on Route 106 to DIllard, GA.
My cousin Bill grew up in Connecticut, but after a stint in Florida found himself running computer systems in Atlanta for the Olympic Games. After that job ended, he stayed in Georgia and settled into the northern suburbs. We met Bill, Carrie and the kids in Dillard and had a fun meal at Moon Pie (right next to the Piggly Wiggly). It was great to connect with family at the southern terminus of our trip!
We took the the highway, U.S. Route 23 north back toward Smokemont. It's a four-lane highway most of the way, and while it was considerably faster than the way we came, it's easy to see that this road could be very crowded with travelers from Atlanta and Ashville heading to Franklin. And while Dillard sits directly on the center line of the path of totality (projected to be 2:36 in duration), and Franklin (2:31) is just 10 miles north of Dillard, we all agreed the Bryson City 1:57 to 2:01) would be more fun and less aggravation!
We stopped at Nancy's Ice Cream & Sweets in Cherokee and the boys were fast asleep by 9:30 PM. ("Run 'em," as my Dad used to say...). It was full day.
---
One day left to go!
We spent Sunday morning in Bryson City doing laundry and getting cash, gas and ice. We took a pleasnat detour up into the mountains on Lakeview Drive, known to the locals as "The Road to Nowhere." As often happens, when a dam was built in Fontana (creating Fontana Lake, part of the Tennesee valley Authority), a number of small towns in the valley were displaced. As part of therelocation plan, the federal government agreed to build a road on the north shore of Fontana Lake so that residents could visit the graves of their forebears and decorate them. Begun in the 1930s, the project stopped after a six-mile section of the road was completed—ending in a tunnel. Apparently an "environmental issue" prevented completion of the road, so the Park Service began ferrying residents across the lake for Decoration Day, a practice that continues to this day. In 2010, the U.S. government finnaly scrapped the road project entirely and compensated Swan County.
We'd hope to see the tunnel, but by 3 PM, the parking lot was packed. We tried for Dry Creek, a popular spot for river tubing, but that, too, was packed. Evenutally, we drove west to the Tsali Recreation Area on the south side of Lake Fontana and found a shady picnic table for lunch. From there, we took the Quickway, Route 74, back to Cherokee and Smokemont.
next...
—SBW
---
---
---